Voice Swap Transform Your Singing Voice with AI Magic
Voice Swap is a revolutionary AI-powered tool designed by DJ Fresh and Nico Pellerin, catering to producers, artists, and writers seeking innovative ways to enhance their music.
This cutting-edge technology allows users to transform their vocals, matching the style of featured artists, and opens up a realm of creative possibilities.
Through Voice Swap, you can effortlessly experiment with different voices, enabling remote collaborations, providing fresh perspectives on your ideas, and creating realistic demos without the need for extensive studio time.
Key Features
AI Voice Transformation: Easily convert your vocals to match the style of renowned artists.
Remote Collaborations: Foster seamless remote collaborations with artists worldwide.
Fresh Perspective: Gain new insights into your music by hearing your creations from a different angle.
Realistic Demos: Create professional-grade demos without the need for an expensive studio.
Licensed Usage: Purchase licenses for unfeatured performances to use AI-generated vocals in your tracks.
Customization: Fine-tune pitch, tone, and melody to craft the perfect vocal rendition.
Dynamic Transposition: Experiment with different octaves to match the artist's natural pitch.
Renowned Partnerships: Collaborate with featured artists to infuse their unique vocal styles.
Secure Output: AI model outputs are traceable and legally bound to respect artists' rights.
Use Cases
Demo Creation: Craft stunning demos with vocals that perfectly complement your music.
Vocal Match: Find the ideal vocal match for your songwriting, enhancing its emotive impact.
Collaborative Remixes: Collaborate remotely with artists across genres to create exciting remixes.
Genre Exploration: Venture into new genres by adapting your voice to suit different styles.
Unique Melodies: Transform your melodies with AI-generated vocals for a distinctive sound.
Vocal Replacement: Replace inadequate vocal samples with custom AI-generated vocals.
Pitch Shifting: Experiment with pitch shifting to achieve harmonious blends with your music.
Pros And Cons
Pros:
Unleashes creativity by offering a diverse range of vocal possibilities.
Facilitates remote collaborations without geographic limitations.
Provides cost-effective solutions for creating high-quality demos.
Offers customized vocal styles to suit various musical genres.
Respects artists' rights by ensuring traceable and legally compliant outputs.
Cons:
Requires a learning curve to achieve optimal results.
Limited free usage; subscriptions are necessary for extended features.
Pricing
Voice Swap offers several subscription options to match your needs: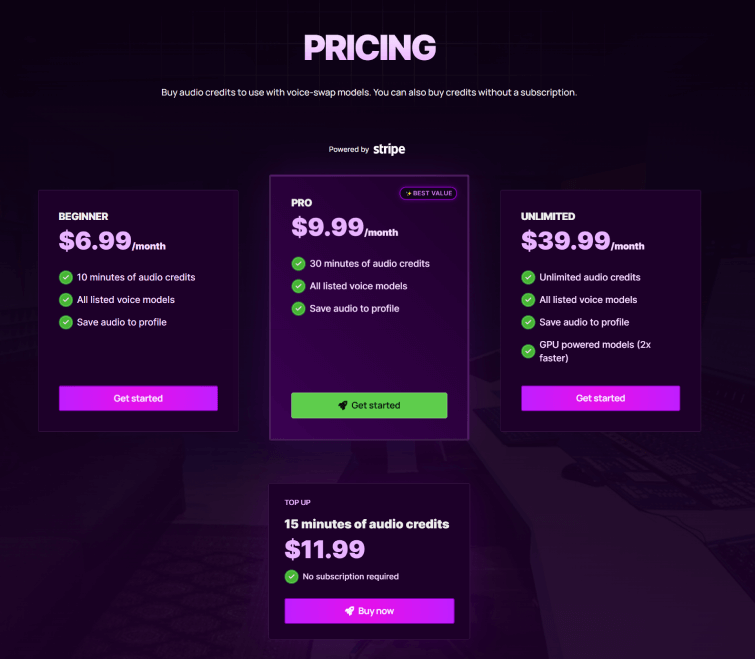 Beginner: $6.99/month – 10 minutes of audio credits, access to all featured voice models.
Pro: $9.99/month – 30 minutes of audio credits, access to all featured voice models.
Unlimited: $39.99/month – Unlimited audio credits, access to all featured voice models, GPU powered models for faster processing.
Top Up: 15 minutes of audio credits for $11.99, no subscription required.
*Please note that pricing may vary over time.
Why Choose Voice Swap?
Voice Swap offers a groundbreaking way to explore and experiment with vocal styles, enabling musicians and producers to create music that transcends boundaries. By collaborating with renowned artists and using cutting-edge AI technology, Voice Swap empowers you to craft authentic and dynamic tracks that resonate with audiences worldwide. Unlock a world of musical possibilities with Voice Swap's innovative vocal transformation capabilities.
Voice Swap Alternatives
Frequently Asked Questions with answers (FAQ)
Why does my audio have glitches?

Glitches in your audio may occur due to the quality of the input file. Ensure that your recordings are clean and free from any distortions or artifacts for optimal results.

Can I use other people's songs with Voice Swap?

No, using other people's songs with Voice Swap requires proper licensing and permission to avoid copyright violations.

Can I use my demo on social media?

Public use of Voice Swap-generated demos without proper permission and licensing is prohibited. Ensure you have the necessary rights before sharing.

How do I use my Voice Swap audio in a track?

You can use your Voice Swap audio in your track just like any other vocal element, enhancing your music with the AI-generated vocals.

What happens if I upload a track without permission?

Uploading a track without the necessary permissions may result in copyright violations and legal consequences. Always obtain proper licenses for your audio.

Am I guaranteed a license within 48hrs if I pay the fee?

While most licenses are typically issued within 48 hours, the timeframe may vary depending on content considerations and artist availability.
Final Thoughts
Voice Swap is an exciting AI tool that opens doors to creativity and collaboration in the music industry. By seamlessly transforming your singing voice and offering an array of dynamic features, Voice Swap empowers artists and producers to break new ground in music creation.
Explore this innovative platform, connect with featured artists, and embark on a musical journey that knows no limits. Elevate your music with Voice Swap and experience the magic of AI-driven vocal transformations.
#Audio Editing #Music