Vidyo AI is revolutionizing the content creation industry by offering an AI-powered platform that transforms long videos into engaging short clips, tailored for various social media platforms.
With features that enable video resizing, captioning, and automatic scene detection, Vidyo AI promises to save creators both time and effort. It's an inclusive tool, loved by more than 500K creators and marketers, with pricing plans that cater to everyone from a beginner to a power user.
The application of Vidyo AI spans beyond simple video editing; it's a strategic tool for growing an online presence. Offering flexible pricing, direct publishing to various platforms, and fully managed service options, it aligns with the needs of modern content teams, podcasters, and individual creators.
It not only repurposes content but empowers creators to build valuable connections and grow their influence online.
Key Features
Vidyo AI comes packed with robust features that facilitate the process of video creation and editing, allowing users to make professional-quality videos with ease.
Auto-video Captioning: Improves video performance by 40% by automatically adding captions, enhancing viewer engagement.
Video Resizing: Offers platform-native sizes for videos, ensuring a perfect fit for various social media platforms.
Video Clipping: Extracts the most interesting parts of videos automatically, making video editing more efficient and customized.
Auto-video Chapters: Provides chapter timestamps for better descriptions, aiding in video navigation.
Social Media Templates: Includes high-performing & visually appealing looks for videos, tailored for different social media platforms.
CutMagic Scene Detection: A sophisticated way to navigate and edit multi-cam and complex videos with automatic scene change detection, reducing editing time.
Direct Publishing to Social Platforms: Users can directly publish to platforms like TikTok, YouTube, Instagram, Facebook, LinkedIn, and Twitter, streamlining the distribution process.
AI Video Editing: Harnesses the power of AI to create customized short videos, offering control over colors, fonts, subtitles, and more.
Content Repurposing: Allows users to grow their online presence by sharing more content from main videos, leveraging the power of content repurposing.
Video Templates for Various Platforms: Offers 100+ templates for videos, including those for major social platforms, ensuring a consistent and branded appearance.
Gary Vee Style Progress Bar: Add a dynamic progress bar in the style of Gary Vee to your videos, providing viewers with visual cues.
720p to 1080p Video Rendering: Depending on the plan, Vidyo AI offers different video rendering qualities, from 720p to 1080p, catering to various professional needs.
CutMagic: An innovative way to edit complex videos with automatic scene change detection, making editing a breeze even for complex videos.
Use Cases
Vidyo AI offers a variety of use cases to enhance video creation and editing for individuals, businesses, and professionals.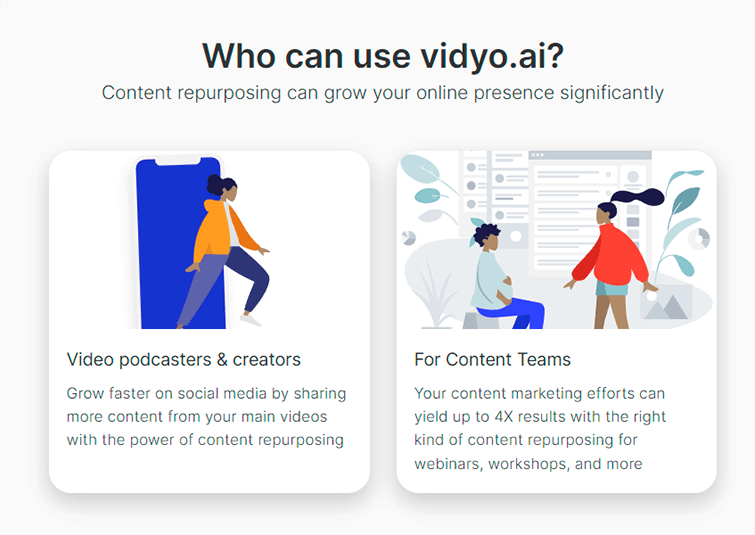 Social Media Content Creation: Users can utilize Vidyo AI to craft engaging short videos for various social media platforms like Instagram, Facebook, and Twitter.
YouTube Shorts Production: Vidyo AI specializes in creating YouTube Shorts, allowing creators to generate content easily.
Video Conversion: Convert long videos into shorter clips or different formats to suit various platforms and audiences.
Educational Content: Educators and trainers can use Vidyo AI to create informative and visually appealing videos for e-learning platforms.
Corporate Presentations: Businesses can leverage Vidyo AI to develop professional and concise videos for internal communication, training, and presentations.
Marketing and Advertisements: Marketers can employ Vidyo AI to create compelling advertising videos to promote products, services, or brand awareness.
Event Summaries: Easily create short video summaries of events, conferences, or workshops, capturing key highlights and moments.
Real Estate Showcasing: Real estate professionals can utilize Vidyo AI to produce virtual tours or showcase properties through well-designed videos.
Automated Video Editing: For those without extensive video editing skills, Vidyo AI offers automated editing tools to create polished videos without the need for technical expertise.
Music Video Creation: Musicians and artists can utilize Vidyo AI to create music videos by combining visual and audio elements, including custom visuals or stock footage.
News and Journalism: Media outlets can use Vidyo AI to quickly assemble news clips or feature stories, streamlining the video creation process.
Healthcare Communication: Healthcare professionals can develop informative videos to educate patients on various health topics or procedures using Vidyo AI.
Travel and Tourism Promotion: Travel agencies and tourism boards can create appealing promotional videos showcasing destinations, attractions, and experiences.
Non-Profit Awareness Campaigns: Non-profit organizations can utilize Vidyo AI to create videos that raise awareness and promote causes.
Pros & Cons
Understanding the strengths and weaknesses of Vidyo AI is essential for making an informed decision. Below are the main pros and cons:
| Pros | Cons |
| --- | --- |
| Wide variety of features | Limited video upload minutes in free plan |
| User-friendly interface | May be overwhelming for beginners |
| Affordable pricing options | Restricted support in free tier |
| Supports multiple video formats | |
| Customizable templates | |
| Free tier available | |
| Direct publishing to social platforms | |
| Quality customer support | |
With an impressive array of features and diverse use cases, Vidyo AI positions itself as a robust tool for content creators. However, it's essential to note the limitations in the free tier and potentially overwhelming options for those new to the field.
Pricing
Vidyo AI offers a range of pricing plans designed to fit the needs of different users:
Free: Explore for $0/month with 75 minutes of video upload monthly and standard support.
Starter: Get started at $15/month with 150 video upload minutes monthly and custom intros/outros.
PRO: For power users, at $29.99/month, including 300 video upload minutes and direct publishing to multiple platforms.
PRO+: For seasoned content creators, at $49.99/month, with 500 video upload minutes monthly and priority support.
Full Service: We do everything for you! From $299/onwards, a fully managed service for your videos, with a dedicated manager.
Price may vary over time, and it's recommended to check the official website for the latest information.
Why Choose Vidyo AI
Choosing Vidyo AI as your content repurposing tool comes with a host of benefits that can greatly enhance your content creation process.
Time-Saving: Create social-ready short clips from long videos and save 90% time.
Easy to Use: User-friendly interface makes it accessible to creators at all levels.
Customization Options: Change colors, fonts, subtitles, and more according to your needs.
Multi-Platform Compatibility: Directly publish content to TikTok, YouTube, Instagram, Facebook, LinkedIn, and Twitter.
Diverse Pricing Options: Flexible plans that suit everyone from a beginner to a professional.
Quality Assurance: Timely delivery with a money-back guarantee in the fully managed service plan.
Vidyo AI Alternatives
While Vidyo AI offers a comprehensive set of features, it's essential to explore alternatives that might suit different needs or preferences.
Frequently Asked Questions (FAQ) with answers
How do I convert a long video to a short video?

Vidyo AI provides the tool to quickly convert long videos into shorter clips. Just upload your video, set your preferences, and the AI will handle the rest.

What is the AI that converts long videos to short videos?

Vidyo AI is a platform that uses artificial intelligence to automatically convert long videos into short, social-media-ready clips.

How do I convert a normal video to Shorts?

Using Vidyo AI, you can easily convert normal videos into Shorts by specifying the desired format and length.

How do I make YouTube Shorts from existing videos?

Vidyo AI's features include direct publishing to YouTube, enabling you to easily create and publish Shorts from existing videos.

How do I make a short video in AI?

Vidyo AI simplifies the process of making short videos with AI by providing a user-friendly interface and step-by-step guidance.

Can AI create YouTube Shorts?

Yes, Vidyo AI can create YouTube Shorts and even publish them directly to your channel.

What is the best AI for creating Shorts?

Vidyo AI is recognized for its robust feature set that makes creating Shorts a breeze.

What AI tools can create YouTube Shorts?

Vidyo AI is specifically designed to create and manage YouTube Shorts, along with other social media content.

Can AI generate short videos?

Yes, Vidyo AI specializes in generating short videos through its advanced AI algorithms.

How do I turn a full video into shorts?

With Vidyo AI, you can easily turn a full-length video into shorts by specifying the required format and letting the AI do the rest.
Final Thoughts
Vidyo AI emerges as a promising tool for content creators, marketers, and professionals looking to enhance their online presence through video content. With its rich set of features, user-friendly interface, and flexible pricing, it caters to a wide spectrum of needs.
Whether you're just starting or looking for advanced tools, Vidyo AI offers something for everyone. However, as with any tool, it's wise to explore and compare with alternatives to find the perfect fit for your unique needs and preferences.
With options for free exploration and fully managed services, Vidyo AI makes content repurposing not just a task but a superpower for online growth.