IconWizard AI – Transforming Ideas into Stunning Icons
Elevate your brand identity with IconWizardAI's cutting-edge AI technology. Seamlessly generate professional and unique icons that reflect your brand's essence.
Our intuitive platform streamlines the icon creation process, enabling you to unleash your creativity and generative art and make your mark effortlessly.
Key Features: Powering Your Icon Creation
Simplified Icon Generation: Craft customized icons in minutes, saving you time and effort.
Endless Creative Possibilities: Break free from cookie-cutter designs and explore a world of unlimited icon variations.
Time-saving Automation: Bid farewell to lengthy searches and design struggles; our AI system does the heavy lifting.
Cost-Effective Options: Choose from flexible pricing plans, tailored for freelancers, small businesses, and larger teams.
User-Friendly Interface: Accessible to all, our platform ensures both beginners and experts design icons effortlessly.
Quality Assurance: Advanced algorithms guarantee top-notch, high-quality icon results.
Easy Icon Management: Store and access your generated icons in the cloud for convenient future use.
Use Cases: Where IconWizardAI Shines
Branding Excellence: Craft icons that embody your brand's essence and captivate your audience.
Web Development: Enhance websites with eye-catching icons that resonate with visitors.
Marketing Collateral: Create memorable visuals for brochures, ads, and promotional materials.
App and UI Design: Elevate user experiences with icons that simplify navigation and engagement.
Pros & Cons: Unveiling the Benefits and Considerations
Experience the advantages and considerations of IconWizardAI:
| Pros | Cons |
| --- | --- |
| Simplified Icon Creation | Limited customization for intricate designs |
| Endless Creative Freedom | AI-generated designs may lack human touch |
| Time and Effort Savings | Occasional variations in design output |
| Budget-Friendly Options | Initial learning curve for new users |
| User-Friendly Interface | |
Pricing: Accessible Icon Brilliance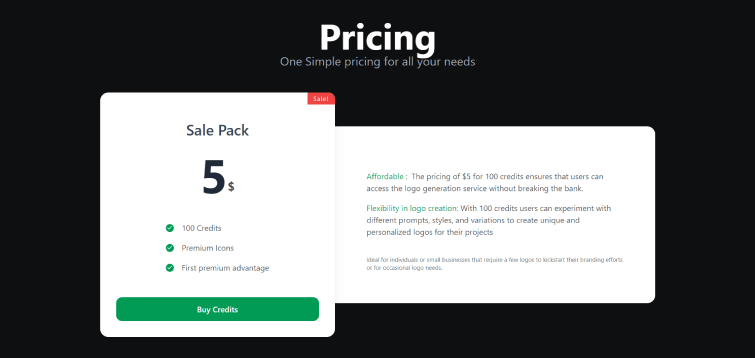 Unlock the magic of IconWizard AI's icon generation for just $5, with 100 credits to jumpstart your creativity.
*Price may vary over time.
Why Choose IconWizard AI: Your Path to Iconic Visuals
Select IconWizardAI for:
Effortless Icon Creation
Limitless Creative Options
Time and Cost Savings
User-Friendly Experience
Quality and Reliability
IconWizard AI Alternatives: Exploring Your Options
Explore alternative solutions to suit your icon design needs.
Frequently Asked Questions (FAQs): Clearing Your Doubts
How long does icon generation typically take?

The duration varies based on complexity, but our automated process is swift and efficient.

Can I use the generated icons commercially?

Yes, you're free to utilize the icons for both personal and commercial purposes

Are there limitations on the number of icons I can create?

No, you can generate an unlimited number of unique icons.
Final Thoughts: IconWizard AI – Your Iconic Journey Begins Here
Empower your brand with captivating icons that resonate and leave a lasting impression. Embrace the convenience of AI-powered design while enjoying the freedom to explore endless creative horizons.
IconWizard AI revolutionizes the way you craft icons, ensuring every visual element aligns seamlessly with your brand's story.
#Generative Art