HeyGen AI is revolutionizing the way businesses create videos by offering a platform that enables users to produce professional videos using AI avatars. With over 100+ customizable avatars, 300+ voices in 40+ languages, and a user-friendly interface, HeyGen AI allows users to create engaging videos for various purposes without the need for video editing skills.
From explainer videos to corporate training, HeyGen AI offers a wide range of features, including lip-syncing, multi-scene videos, 1080P downloads, and more, all available in different pricing plans to suit individual needs.
The platform is trusted by renowned companies and has received praise from users for its innovative features and ease of use. With options for free trials and different pricing tiers, HeyGen is accessible to individuals, small businesses, and enterprises, providing a comprehensive solution for AI-driven video creation.
Key Features
HeyGen offers a plethora of features that make video creation as simple as crafting a PowerPoint presentation. Here's a look at some of the key features: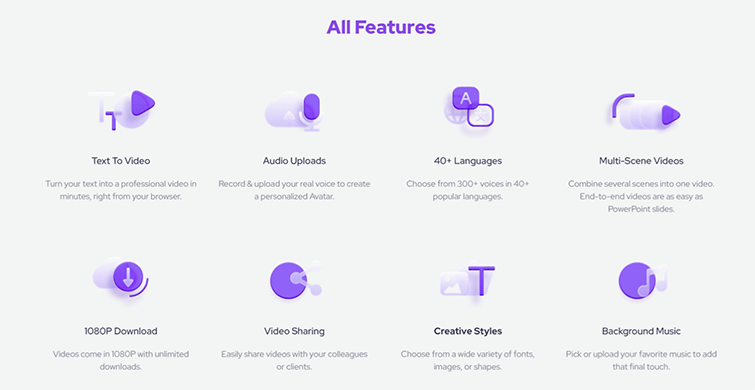 Text To Video: Turn your text into a professional video in minutes, right from your browser.
Audio Uploads: Record & upload your real voice to create a personalized Avatar.
40+ Languages: Choose from 300+ voices in 40+ popular languages.
Multi-Scene Videos: Combine several scenes into one video, making end-to-end videos as easy as PowerPoint slides.
1080P Download: Videos come in 1080P with unlimited downloads.
Video Sharing: Easily share videos with colleagues or clients.
Creative Styles: Choose from a wide variety of fonts, images, or shapes.
Background Music: Pick or upload your favorite music to add the final touch.
Custom Avatars: Pick from 100+ AI avatars or create your own.
Lip-Sync with 300+ Voices: Realistic lip-syncing in 40+ languages.
Text-to-Video in Minutes: Quick video generation.
Use Cases
HeyGen is not just a video creation tool; it's a versatile platform that caters to various business needs. Here are some of the use cases:
Explainer & How-to Videos: Create informative videos to explain products or services.
Marketing: Produce engaging videos for marketing campaigns.
Personalized Sales Videos: Tailor videos to individual clients or leads.
E-learning: Develop educational content for online learning.
Training & Onboarding: Create videos for employee training and orientation.
News: Generate news videos with AI avatars.
Corporate Training Video Templates: Ready-to-use templates for corporate training.
Community Engagement: Engage with the community through social media videos.
Customer Support: Create support videos to assist customers.
Product Launch: Announce new products with captivating videos.
Pros & Cons
Like any platform, HeyGen has its strengths and areas for improvement. Here's an overview:
| Pros | Cons |
| --- | --- |
| Easy to use and intuitive interface | Limited features in the free plan |
| 100+ diverse and customizable realistic avatars | Some users may desire more advanced editing tools |
| Quick text-to-video conversion | |
| 300+ voices available in 40+ languages | |
| Multi-scene videos for comprehensive creation | |
| 1080P download with unlimited access | |
| Wide variety of creative styles and options | |
| Free trial available | |
HeyGen AI's pros clearly outweigh the cons, making it a robust and user-friendly platform for various video creation needs. Whether you are a small business owner, an educator, or a marketer, HeyGen offers a solution to create professional videos with ease.
Pricing
HeyGen AI offers a range of pricing plans to cater to different needs, from individuals to large enterprises. Here's a detailed breakdown: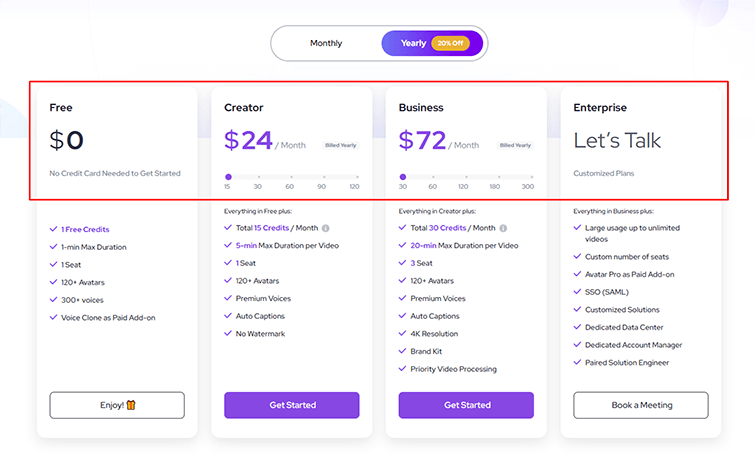 Monthly Plans:
Free: $0

1 Free Credit
1-min Max Duration
1 Seat
120+ Avatars
300+ voices
Voice Clone as Paid Add-on
Creator: $29/Month

15 Credits/Month
5-min Max Duration per Video
1 Seat
120+ Avatars
Premium Voices
Auto Captions
No Watermark
Business: $89/Month

30 Credits/Month
20-min Max Duration per Video
3 Seats
120+ Avatars
Premium Voices
Auto Captions
4K Resolution
Brand Kit
Priority Video Processing
Enterprise: Customized Plans

Large usage up to unlimited videos
Custom number of seats
Avatar Pro as Paid Add-on
SSO (SAML)
Customized Solutions
Dedicated Data Center
Dedicated Account Manager
Paired Solution Engineer
Yearly Plans (Billed Yearly):
Free: $0

Same features as the monthly Free plan
Creator: $24/Month

Same features as the monthly Creator plan
Business: $72/Month

Same features as the monthly Business plan
Enterprise: Customized Plans

Same features as the monthly Enterprise plan
The yearly plans offer a discount, making them a cost-effective option for those looking for long-term engagement with the platform. Whether you're just starting out or need extensive features for your business, HeyGen's pricing structure provides flexibility and options to suit your budget and requirements.
*Price may vary over the time
Why Choose HeyGen AI?
HeyGen AI stands out as a leading AI video generator platform for various reasons. Here's why you should consider choosing HeyGen:
Ease of Use: With a user-friendly interface, HeyGen AI makes video creation accessible to everyone, regardless of technical skills.
Diverse Avatars: Over 100+ customizable and realistic avatars cater to different styles and nationalities.
Quick Video Generation: Convert text to video in minutes, saving valuable time.
Multilingual Support: With 300+ voices in 40+ languages, HeyGen reaches a global audience.
High-Quality Output: Videos are available in 1080P, with 4K resolution in premium plans.
Flexible Pricing: From free trials to enterprise solutions, HeyGen AI offers plans for individuals, small businesses, and large corporations.
Trusted by Renowned Companies: Brands like PWC, Salesforce, and Volvo trust HeyGen for their video creation needs.
Continuous Innovation: HeyGen is constantly improving, with new features and enhancements regularly released.
HeyGen AI Alternatives
While HeyGen AI offers a comprehensive solution for AI-driven video creation, there are other platforms in the market that might suit different needs or preferences. It's advisable to explore these alternatives and compare features, pricing, and user reviews to find the best fit for your specific requirements.
Frequently Asked Questions (FAQ)
Is HeyGen AI free?

Yes, HeyGenoffers a free plan with basic features. More advanced features are available in paid plans.

What is the best AI avatar video generator?

HeyGen is considered one of the best AI avatar video generators, offering diverse avatars and multilingual support.

Which AI video generator is free?

HeyGen AI provides a free plan for users to get started with AI video generation.

How do I make an AI avatar video for free?

With HeyGen, you can create an AI avatar video for free by signing up and using the features available in the free plan.

Is there an AI that can generate videos?

Yes, HeyGen AI is an AI-powered platform that can generate videos using text and customizable avatars.

What are the languages supported by HeyGen?

HeyGen supports 40+ popular languages, including 300+ voices to choose from.

Can I upload my own voice in HeyGen AI?

Yes, HeyGen allows users to record and upload their real voice to create personalized avatars.
Final thoughts
HeyGen AI is a game-changer in the realm of video creation, offering a platform that combines ease of use, diversity, quality, and affordability. Whether you're a marketer looking to engage your audience, an educator aiming to create interactive e-learning content, or a business owner wanting to scale video production, HeyGen AI provides the tools and flexibility to achieve your goals.
With continuous innovation and a commitment to customer satisfaction, HeyGen AI is not just a tool but a partner in your creative journey. The free trial and various pricing options make it accessible to all, and the positive reviews from users across different industries attest to its effectiveness and reliability. If you're looking to explore the world of AI-driven video creation, HeyGen AI is undoubtedly worth considering.